TickBoy's Tribute to
"The Great Game" and the Texas Rangers

I do not have the longevity of fandom that others can profess, I have been a Texas Rangers fan and a baseball fan since 1986. That is when two of my very good friends "forced" me to to attend a game. Then I thought that baseball was a VERY boring game. I softened my stance on baseball after that game and my love for it has grown ever since. I would like to take this opportunity to thank those two great friends: Thanks Todd W. and Pat Y.!
Although I became a Texas fan when I attended my first game, I didn't follow baseball closely. My addiction started when another great friend, David N., introduced me to some of the nuances of the Great Game. He taught me some of the more obscure rules and explained some to the strategies (Some would say that he created a monster). Now I can't get enough of it!
I am fortunate to live about 3 miles from "The Ballpark in Arlington" or sometimes referred to as "The Temple". Although I only attend approximately 5 games a year due to lack of funds, I rarely if ever miss a game on TV.
This site is dedicated to the past greats, the current and future stars, Abner Doubleday, and baseball fans in general. Thanks for listening (reading).
TickBoy
Arlington Stadium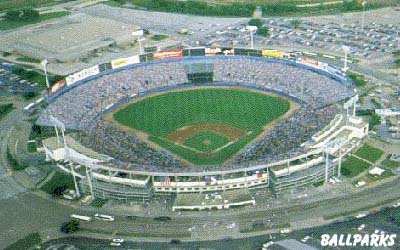 This is where I attended my first game